Grand Rapids Quickens Transit Pace
City and region team up, study rapid transit as way to deepen downtown revival

February 17, 2003 | By Johanna Miller
Great Lakes Bulletin News Service
| | |
| --- | --- |
| | |
| | MLUI/Pat Owen |
| | Rapid Renaissance: The new Van Andel Museum Center and Planetarium in Grand Rapids, on the banks of the Grand Rapids, exemplifies the metropolitan region's commitment to building a more livable community. |
John Brown slips out from behind his desk at the Grand Rapids Area Chamber of Commerce, strolls across Pearl Street and through the back door of the Four Friends coffee shop. The young woman behind the counter smiles. "The usual?" she asks. Mr. Brown nods and smiles back, happy to be in a place that takes the time to remember what its customers like.
Mr. Brown, the Chamber's president, understands the value of good business and the importance of genuine community. Both guide him and other area officials as they work to make their region a superior place to live.
One such group of citizens, called the Public Transportation Tomorrow Task Force, has begun looking closely at regional transit issues. Under the auspices of the transit authority, the task force — an alliance of business, government, and civic leaders — has armed itself with the region's long-range transportation and land use plans and the city's new master plan. The task force is studying the potential for making the transit system more "rapid."
Like many other officials and several grassroots organizations in the region, Mr. Brown believes that regional rapid public transit could greatly aid the Chamber's mission of improving metropolitan Grand Rapids' quality of life.
Rapid transit would help city and regional planners with their ongoing efforts to reverse the damage done to the center city and the small towns surrounding it when, in the 1960s, road builders plowed multi-lane expressways U.S. 131 and I-196 through Grand Rapids. Those highways made both the downtown and its neighborhoods much less pedestrian-friendly and brought sprawling, auto-centric development to its suburbs.
These days, Grand Rapids is heading in a different direction, one that Mr. Brown believes is essential. "A viable transportation system is all part of creating an urban lifestyle that will help to attract a highly skilled, creative class of workers," noted Mr. Brown from behind his steaming mug of cappuccino. It creates "an urban lifestyle that will help attract a highly skilled, creative class of workers. If Grand Rapids wants to be successful at generating wealth and attracting business, we must have a vibrant urban landscape."
Voting for Success
This logic, backed by community groups such as Faith in Motion and Disability Advocates of Kent County, persuaded voters to support a regional public transportation referendum by a two-to-one margin in April 2000. The referendum established a regional transit millage, extended nighttime operating hours for the existing bus system, added Sunday service in a city known for its many churches, and created a new regional transit authority — the Interurban Transit Partnership. ITP, which calls its bus service "The Rapid," connects Grand Rapids, East Grand Rapids, Grandville, Kentwood, Walker, and Wyoming.
Since that vote, one of the first significant initiatives ITP undertook was to launch the approximately $1.2 million study that the task force is leading. It will examine whether the region is ready for light rail, urban rail, or train-like, cost-efficient "rapid buses."
But rapid transit is hardly a sure thing. The study must first determine what the best rapid transit corridor would be, decide whether "rapidizing" that corridor would make sense, and then choose between buses and trains.
It could be as long as a decade before voters are asked to fund a new system with another millage or other tax plan. And not every community in the area thinks more and better public transportation is a good idea.
Narrow and Broad Views
For example, Cascade Township Supervisor Michael R. Julien said his township board chose to contract with ITP primarily for special services because his is "a very affluent area. I'd say we average three cars per family. There isn't a need for public transit. We have it where it's needed and use the Go!Bus service for seniors and people with disabilities."
But Grand Rapids city planner Suzanne Schulz takes a broader view.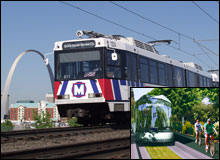 Dallas Area Rapid Transit
Keeping Options Open: Grand Rapids' transit study will consider new regional transportation choices, including bus rapid transit (simulated below right) and light rail, like St. Louis' MetroLink system (above right).
"We want to build options for people so they don't have to get in a car, so they can walk, bike, or take the bus to work," she said. "It's about health, about being in close enough proximity to walk to the grocery store or cultural amenities, and about building a way of life that is more attractive to people."
Grand Rapids Mayor John Logie is even more emphatic about public transportation's critical role in moving the region forward.
"We have to move people to mass transit if we want to preserve a quality of life that people have come to take for granted," he said. "If our quality of life deteriorates, people will go elsewhere to avoid gridlock."
Many area citizens are adopting this point of view. Beyond their support of the new transit system at the ballot box almost three years ago, they also have voted with their feet: Ridership on The Rapid has risen by 66 percent over the last seven years; currently 58 percent of its patrons use it to get to work and 18 percent to go shopping.
Planning Makes the Difference
A key to making public transportation work is careful land use planning. West Michigan regional organizations such as United Growth for Kent County and the Grand Valley Metro Council, the region's planning authority, have worked hard to rein in sprawl. In 1999 a collaborative effort between the suburbs and the city created an urban utility boundary that discourages development beyond existing sewer and water lines. The results have been impressive: Of the state's four largest cities, only Grand Rapids gained population in the last census.
Not only does higher-density development make any transit system more efficient, it also encourages the revitalization of moribund urbanized areas. As metropolitan Grand Rapids' leaders plan for such development, they are actually helping ease traffic congestion and its accompanying air and water pollution. They are also helping to attract federal funding because the U.S. government allocates more public transit dollars to communities that plan for compact development.
Rapid trains or buses would stimulate long-term regional renewal and community development efforts in metropolitan Grand Rapids because public transportation is a proven economic and workforce development tool. Chattanooga, Tennessee, offers an excellent example.
In the 1980's Chattanooga was reeling from a depressed economy and a hollowed-out city center. Its leaders led a comprehensive effort to revitalize the urban core, including implementing a new downtown electric trolley transit system. According to Ann Coulter, executive vice president of a revitalization company called RiverCity, the trolley helped spur a steady increase in downtown property values, investment, and employment levels.
Transportation Can Make the Community
While Chattanooga's success bodes well for Grand Rapids' intention to make public transportation work both downtown and throughout the surrounding region, those who have been pressing Grand Rapids leaders hard for years to pay attention to this issue say the ultimate effects go far beyond dollars and cents.
Faith In Motion's Andrew DeBraber, for one, says his group pushes so hard on transportation issues in order to build social justice, enhance environmental stewardship, and improve everyone's quality of life. And, he says, better public transportation is also about enabling people "to experience community. ITP allows that to happen in ways that were not possible before the millage passed. That's particularly true for people who can't drive or couldn't get to a variety of faith functions, to city commission meetings, or to get to know other people riding on the bus. We don't love buses, we love people."
David Bulkowski, executive director of Disability Advocates of Kent County, agrees. "Public transit is about community. Are we going to build a world where people can't come together as a community?" Mr. Bulkowski asks. Not if the Grand Rapids region has its way.

Contacts:
• John Brown, 616-771-0322,
• Michael R. Julien, 616-949-1500
• Suzanne Schulz, 616-456-3646,
• John Logie, 616-456-3035,
• Andrew DeBraber, 616-774-9037,
• David Bulkowski, 616-949-1100,
On Board: Company's Creativity Offers Employees Less-Stressful Lifestyle >>