Double Up Food Bucks give needy a leg up
House's Farm Bill would have cut $20B from incentive programs

* Editor's Note: This column originally appeared in the June 29 edition of the Traverse City Record-Eagle, before the U.S. House of Representatives voted July 11 to pass a Farm Bill that stripped it of all funding for the Supplemental Nutrition Assistance Program, or food stamps. You can learn more about the House action here and here. It was the second stunning House vote in a month on the Farm Bill and means it's critical now for the Senate and House to move forward to negotiate a joint bill that serves farms, rural economies, conservation, and families who need a little economic help to eat the healthy food that our farmers grow. MLUI supports this position statement signed by a growing number of groups around the country.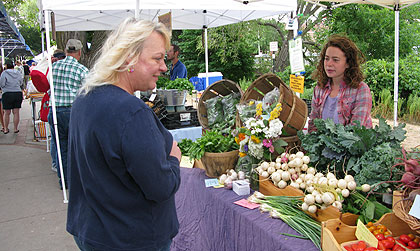 Kathie Maldonado shops at the Sara Hardy Farmers Market in downtown Traverse City in 2012. Maldonado uses her Bridge card to double her spending money thanks to Double-Up Food Bucks. (Photo: James Russell/MLUI)
Starting July 1, Kathie Maldonado will be able to stretch her food budget to include late local asparagus and the season's sweet new strawberries, thanks to a program called Double Up Food Bucks.
The statewide, nonprofit program helps financially struggling families eat healthy while supporting business for farmers. It doubles the money that people who receive SNAP Bridge Card assistance (food stamps) have to spend with local farmers at farmers markets. That means it's helping federal dollars governed by the Farm Bill have much more of an impact on local farm economies than, say, the grocery section at Walmart.
Last year, for example, Double Up Food Bucks and SNAP spending combined put nearly $85,000 into the local food economy at markets in Benzie, Grand Traverse, Leelanau and Manistee counties.
The Farm Bill, if the U.S. House ever can pass legislation, would help keep this good idea alive. The Senate version of the bill—which Sen. Debbie Stabenow of Michigan was able to bring to bipartisan passage twice over the last two years—contains $20 million a year for incentive programs like Double Up Food Bucks. The House version contains $5 million.
But the House kept stalling; and when it finally brought a bill up for a vote last week, the result stunned all political observers: It didn't pass, and food stamps were one of the big reasons why. The overall cuts to food stamps in the House bill would have been nearly $20.5 billion, devastating to struggling families in a down economy. Congressional Budget Office statistics show that nearly two-thirds of the increase in the number of people receiving benefits between 2007, right before the economy crashed, and 2011, has been driven primarily by a weak economy,
And then there were three last-minute Republican amendments that would have required drug testing and added work requirements for food stamp recipients.
I have trouble understanding the logic behind these requirements, and if drug testing would be extended to everyone who receives business subsidies or some other form of federal funds. And work requirements in what is routinely referred to these days as a "jobless economic recovery?"
The irony for me is that the same day last week that I was reading about why the House bill didn't pass, Kathie Maldonado gave me a call. She was so excited. After being laid off following 30 years of work and four years of searching for a new job, she'd finally landed employment.
I got to know Kathie because she is a member of Progress Village, a group made up of people in poverty who are working to find solutions to poverty and to support each other in getting out of it. She's been coming to meetings of the Northwest Michigan Food & Farming Network, where I'm also a member, to brainstorm ways to build the local food economy to the benefit of farmers and residents.
The Food & Farming Network raised the funds to bring Double Up Food Bucks to the region two years ago. At the time, 22,000 people in Benzie, Grand Traverse, Leelanau and Manistee counties (where markets were participating) were food stamp beneficiaries, and 40 percent of them were children.
Kathie, then in her second year of unemployment, was one of them.
"For the first time in my life, I needed to get help to eat," she said of going on food stamps. Of Double Up Food Bucks, started by the Fair Food Network, she said: "It is a blessing."
This July through October, the number of markets accepting Double Up Food Bucks is expanding. It will be available in markets in Benzonia, Boyne City, Cadillac, Charlevoix, Elberta, Lake Leelanau, Manistee, Pellston, Suttons Bay, downtown Traverse City, and the Marvin's Gardens Spot farm market store near Interlochen.
You'll see Kathie at one of them. And not just as a shopper. She's now working for a small but growing local company, Up North Global, whose tagline is "global tastes, local flavor." She's cooking food like stuffed grape leaves for owner Marty Pavlock and selling them at the Traverse City Sara Hardy Farmers Market, and both he and she hope it can grow into a full-time, year-round job. And then she'll buy even more from local farmers.
Diane Conners is a senior policy specialist in food and farming at the nonprofit Michigan Land Use Institute. You can learn more about Double Up Food Bucks at doubleupfoodbucks.org and foodandfarmingnetwork.org.

No Comments