Friends and Neighbors
Grand Rapids Mayor John Logie: Rebuilding a city, revitalizing a region

March 24, 2003 | By Andy Guy
Great Lakes Bulletin News Service
| | |
| --- | --- |
| | |
| | MLUI/Johanna Miller |
| | Grand Rapids Mayor John Logie |
On December 31, 2003, John Logie will end his tenure as Grand Rapids' longest-serving mayor. In the years before his election to that position in 1991, Mr. Logie served in the United States Navy, received a law degree from the University of Michigan, and directed organizations such as Goodwill Industries and the American Cancer Society. Who's Who in America lists him as one of the country's top leaders. A consummate public servant, Mr. Logie has dedicated much of his time as mayor to reviving the spirit of Michigan's second-largest city. He passionately advocates for improvements to public transit, the renovation of historic buildings, and a regional sense of community. His work has helped make the Grand Rapids metropolitan area one of the nation's Smart Growth leaders. Mayor Logie joined the Michigan Land Use Institute as an official member last December. Recently he spoke with the manager of the Institute's Grand Rapids office, journalist and community organizer Andy Guy.
Andy Guy: How did you get interested in the idea of Smart Growth?
Mayor Logie: A book called The Death and Life of Great American Cities by Jane Jacobs. In her book she said that if you want to have a healthy downtown you've got to have people there. When I came back to this city to practice law in the late 1960's, had I been a bowler I could have taken my bowling ball out on the sidewalk and hurled it in any direction at about 5:20 every afternoon and throughout an entire weekend secure in the knowledge that I would never break an ankle. There was nobody here.
Andy Guy: What are your proudest achievements as mayor?
Mayor Logie: I don't want to take any more credit than many others who were also talking about Smart Growth. There obviously were a number of people here poised to move when I began shooting my mouth off in 1995. But when I became mayor in 1991 there were 76 empty storefronts in our downtown pedestrian mall. Today, I count 11. In '95 we said that we wanted 5,000 more residential units in downtown by 2005. So far we've built more than 3,000 units for people of all income levels. These types of turnarounds have brought more life back downtown.
Andy Guy: Why did you join the Institute?
Mayor Logie: The Institute and I have identified a common enemy — sprawl. Every hour you and I spend talking, another 10 acres of Michigan disappears into sprawl. This is a quality-of-life issue. I'm a fourth-generation Grand Rapidian. And I want us to be doing things now so that when my granddaughter gets to be my age she can say, like I've been able to say all my life, that Grand Rapids is a good place to live, a good place to work, and a good place to raise and educate children.

Andy Guy: What benefits do you get for your membership?
Mayor Logie: The recent publication The Regional Ride is a good example. It's marvelous. I've been handing it out as a tool to promote public transit. It helps create a buzz that is very positive for our community.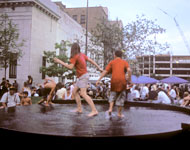 Bradford Ryder
At play in downtown Grand Rapids
Andy Guy: What kind of difference do you see the Institute making here in Grand Rapids?
Mayor Logie: The Institute recently was an active voice on two important local issues — the city's new master plan and Kent County's Purchase of Development Rights program to preserve rural landscapes. Making this urban-rural connection is really important. Our Urban Core Mayors group, which includes the 12 older, urban cities in southern Michigan, now has a formal alliance with the Michigan Farm Bureau. That's like the Union Pacific and the Central Pacific railroads running into each other at Promontory Point. Because the point where we got our cowcatchers together was sprawl! The farmers are fighting the same thing that the mayors of the core cities are fighting. That is, the cities and the rural landscapes will both be stronger if we build more dense community centers.
Andy Guy: What are your plans after your term as mayor ends?
Mayor Logie: We're going to say right here in Grand Rapids. This is our home. Susan and I are going to continue to live in our 110-year-old home in Heritage Hill and enjoy this beautiful city. Our roots are here.