Our Back Pages

March 24, 2003 |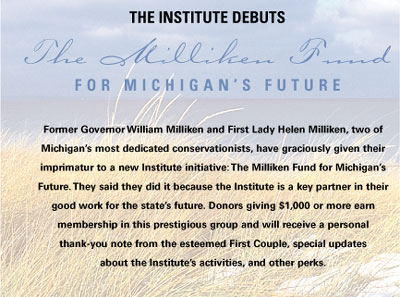 Executive Director Voss Gets Council Seat
It was a great way to kick off a staff retreat on February 5: Official word arrived from Lansing that Governor Jennifer Granholm had named Institute Executive Director Hans Voss to the new, bipartisan Michigan Land Use Leadership Council. Ms. Granholm charged the council with "studying and identifying trends, causes, and consequences of urban sprawl" and requested recommendations that "minimize the impact of current land use trends on Michigan's environment and economy." That's exactly what Hans has been doing since becoming the Institute's first paid employee back in July of 1995. He'll be at the council table with 25 other prominent Michigan citizens, including former Governor William Milliken and former Attorney General Frank Kelley, who co-chair the group. Plan on attending one of the five public hearings the council hosts throughout the state on, tentatively, April 21 and April 28. It's your chance to plug into what should be one of the most important public deliberations the state has conducted in decades. A complete list of meeting times and places is available at mlui.org. Or call Gov. Granholm's office at 517-335-6397. Hans hopes to see you there!
Spring Board
The Institute welcomed two new additions to its Board of Directors in January. Sam Cummings is president of Second Story Properties, Inc., a real estate development, property management, and consulting firm that began renovating urban properties in Grand Rapids in 1992. James F. Gehrke is an attorney at Butzel Long's Detroit office. He clerked for Michigan Supreme Court Justice James H. Brickley; currently he concentrates on business and commercial litigation. Check their complete, and completely impressive, biographies at our Web site, mlui.org.
Enjoy "The Regional Ride"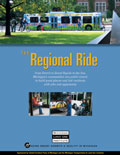 It's the Institute's latest special report on public transportation. The Regional Ride reports on the growing support for regional transit in the Detroit, Grand Rapids, Ann Arbor, Traverse City, and Sault Ste. Marie areas and recommends policy changes that could help. The full-color, 20-page report, produced in partnership with United Cerebral Palsy of Michigan, can be read or downloaded from our Web site, mlui.org. Or call 231-882-4723 and request a copy.
New Blood
The Institute has added two new faces to its all-star lineup of Smart Growth advocates. Policy Specialist Mac McClelland is now exploring how building new schools in undeveloped areas can intensify sprawl (see page 5). And Managing Editor Jim Dulzo is reviving the Great Lakes Bulletin and coordinating the Institute's myriad publications, including its busy Web site.
And the Winner is…

The Michigan Land Use Institute's Web site was named one of the 50 best in the country late last year. The entire list is at planetizen.com
and makes for some fascinating, relevant reading.