Rhetoric vs. Reality
National comparison shows Michigan falls behind true transit leaders

March 5, 2003 | By Kelly Thayer
Great Lakes Bulletin News Service
| | |
| --- | --- |
| | |
| | Mario Tama/Getty Images |
| | New York, which leads the nation in funding transit, puts four times more money per capita into bus and train services than Michigan. To compete for workers and commercial investment, Michigan must strive to rank more than just average nationally in its support for transit. |
Michigan transportation officials routinely dismiss requests to increase public transit funding by claiming Michigan already excels in its support for bus and train service.
The boasting is off course.
New Economic Engine reveals that Michigan is simply average, ranking sixth in per capita transit funding among 12 states. This report compiles and examines 1999-2000 funding data from the nation's 10 most-populous states, including Michigan, and Michigan's nearest neighbors Indiana and Wisconsin.
The conclusion is clear: Michigan must increase and sustain funding for buses and trains if it truly aims to be a "national leader" in transit.
Case Study: Michigan and Illinois
A glimpse at Michigan and Illinois reveals the difference state policy makes on transit development and service.
Though comparable to Illinois in demographics, economics, and even culture, Michigan spends roughly one-third as much per capita on transit: About $21.50 versus Illinois' $58 per resident. Not only does Illinois beat Michigan in public transit, its funding for bus and train systems is in a league with transit-rich, densely developed states, such as New York, New Jersey, and Pennsylvania.
As a result, Illinois' cities offer a menu of transit options ranging from shuttle vans to express buses to Chicago's famed elevated train system. Chicago, in turn, enjoys more urban redevelopment than Detroit, in part, because of convenient and comprehensive transit offerings.
City Rankings
Michigan's cities fare even worse than the state as a whole in New Economic Engine's comparison of local transit support during 1999-2000.
Detroit ranks 13th among the 22 metropolitan areas surveyed, while Grand Rapids comes in at 16th. Detroit raises only $34 per capita for local transit. Grand Rapids raises a paltry $24 per person, even after the city waged a successful campaign in 2000 to increase a local property tax millage for transit. Low overall transit spending in Grand Rapids accounts for the fact that the city's improved system still suffers from limited evening and weekend hours and service cuts in outlying townships.
Chicago, in contrast, ranks eighth among the 22 cities studied by raising $95 per resident for its contribution to the city's transit system. Cleveland takes fourth place with $156 in local per capita transit support.
Commitment and Creativity
Fortunately, Michigan cities are getting busy. Both Detroit and Grand Rapids are developing plans for improving their transit systems. Stronger state-level support now is essential to keep these cities' efforts going and to pull Michigan's economy into the 21st century with clean and convenient public transit.
States that lead the nation in supporting transit use ingenuity and initiative to get there. These leaders broaden their bases of funding and generate significant new money by tapping such sources as lottery, casino, and corporate revenues. States that view transit as a key component of a thriving economy find new ways to bolster their bus and train services.
National leader New York assesses a corporate franchise tax that produces more than $600 million a year for transit, nearly 40 percent of its budget. New Jersey directs about $24 million a year in casino proceeds to transit services for seniors and people with disabilities. Pennsylvania banks on its state lottery to supplement its transit fund, accounting for about 15 percent of transit's total revenues.
Michigan, on the other hand, relies not only on a narrow set of transportation-related taxes, but also fails to ensure bus and train systems receive their full share of annual transportation revenues. In short, Michigan's approach to funding transit lacks commitment and creativity.
Discretionary Dedication
Among the 12 states studied in New Economic Engine, Michigan and four others use dedicated taxes on gasoline, sales of vehicles and parts, and other transportation-related transactions to fund their transportation programs.
The amount of dedicated transportation funds that Michigan puts into public transit, however, has become discretionary. During the 1990s, Governor Engler repeatedly has redirected funds bound for public transit to roads and other priorities. Mandating that transit receive the full 10 percent of such taxes allowed it under the state constitution is an essential step toward successful public bus and train service in Michigan.
The seven other states examined in this report have turned to their general funds — the repository for an array of state taxes — to supply the majority of their transit dollars.
Pennsylvania is the only state studied that balances dedicated taxes and general fund revenues.
Funding Solutions
Michigan must work to avoid the funding fluctuations and uncertainties that since 1990 have kept transit programs in survival mode. The state can improve existing systems and build new transit capacity in its cities and rural areas by maximizing transit funding and developing fresh sources of revenue for buses and trains.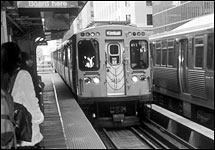 MLUI/Pat Owen
Chicago is among those forward-thinking cities that have made transit a priority in recent years and now are attracting residents and commercial investment with convenient transportation.
The Michigan Transportation and Land Use Coalition's first priority is to increase state transit funding to the full 10 percent of certain transportation taxes that the state constitution allows for transit. At the full 10 percent threshold in 2001, transit would have had an additional $25 million a year on top of the total $220 million budget for bus and train systems. In 1999, the coalition helped advance a bill to the floor of the state Senate that would have accomplished this goal, but Michigan Governor John Engler pulled it. Many lawmakers, however, remain receptive to this idea for promoting transit.
Michigan also could chart a better course for its transit programs by diversifying its sources of support. The coalition backs House Bill 4002, which would direct a portion of the existing tax on automobile leases to the transit budget, increasing the state's contribution to buses and trains by about 10 percent, or $23 million, annually. The coalition also seeks to guarantee dedicated transit taxes actually go to funding public transit services. Michigan's transit systems and economy will take off when state officials treat transit as a vital investment.