Ann Arbor Takes Conductor's Seat
Michigan's public transit innovator could lead rail revival, boost regional development

February 17, 2003 | By Johanna Miller
Great Lakes Bulletin News Service
| | |
| --- | --- |
| | |
| | Kimberli Bindschatel |
| | Ticket To Ride: Ann Arbor's innovative public transit system fosters transportation choices for the city's nearly 120,000 residents, including walking, bicycling, and taking the bus. |
By name and by nature, Ann Arbor is a leafy-green town. With narrow streets, wide sidewalks, a thriving downtown, and great public parks, the city is a model of high-quality livability. Its leaders manage to keep it that way, in part, with the city's well-funded, high-tech public transit system, the Ann Arbor Transportation Authority (AATA) — widely regarded as one of the best bus systems in the state.
Now, using a combination of local, state, and federal funds, AATA is taking an important next step that might well turn out to be a quantum leap: It is studying the creation of commuter rail service paralleling I-94 from Chelsea to Detroit — one of the region's most congested traffic corridors. Using existing rails, the new commuter trains would connect with current and new AATA bus routes throughout Washtenaw County, where Ann Arbor is the county seat. This multi-modal integration would allow residents in outlying communities such as Chelsea or Saline to travel to either the Detroit area or, via Detroit Metropolitan Airport, to literally any major city in the world without ever getting in a car.
This is the kind of seamless transportation network that has helped build the world's great cities. That is why Ann Arbor Mayor John Hieftje and other city and corporate leaders are excited about what the new study could mean to the future of Ann Arbor and the region.
"In Ann Arbor, we want to provide the highest quality of life. We want to attract the best in business and development," Mayor Hieftje said. "To attract businesses, we need to give them a choice. If we are going to be a modern city we have got to have rail."
But making rapid rail work is challenging. Just getting the Michigan Legislature to fund the complete study took two years and a great deal of political maneuvering. AATA will face significant jurisdictional, planning, and political barriers as it works to activate old rail lines that stretch from city to city and county to county. By far the highest hurdle, though, is finding the millions of dollars necessary to build and run a new commuter rail system in today's tight economic times.
"The funding question is the biggest challenge down the road," said Greg Cook, the transit authority's executive director. "Every community along the line is going to have to put dollars in to make it work."
Promoting Space Age Transportation
If there's a public transit agency in the state that is up to leading such a visionary effort, it is AATA. The authority is fortunate to have been born in a city that takes the long view in transportation planning. With nearly three times more people traveling into Ann Arbor than out of it every workday, the city has long sought creative ways to accommodate heavy commuter traffic to its central business district and University of Michigan campus without choking itself on cars.
Ann Arbor took its first truly important, proactive step toward renewing its public transportation system in 1973, when it dedicated, via city charter, a permanent millage for transit. It has used that money to build what many public transportation experts consider a model system. Today transit stops circle the city and bus routes connect riders to the downtown hub like spokes on a wheel.
Working with this basic design, AATA has teamed up with business organizations such as the Ann Arbor Area Chamber of Commerce, the city, and the Downtown Development Authority to persuade more people to take "The Ride," as the system now calls its bus service. Such collaboration spawned an innovative program that offers free, year-round bus passes to employees of participating downtown businesses. And the city avoided building still more downtown parking structures in favor of developing commercial space.
Defying the old-fashioned image of buses, AATA has also gone high-tech with its fleet. It employs satellites, computers, video and audio monitors, the Web, and high-band radio. The technology keeps customers, operators, mechanics, and even the city's fire and police departments informed of exactly what is happening with and inside each bus on a real-time basis. It also is replacing old buses with new ones that run on ultra-low-sulfur diesel fuel, which reduces pollution by 90 percent — a first in the Midwest.
The long list of planning, promotional, and technical innovations has had one easily described result: AATA continues to run well ahead of national trends in transit use, posting annual ridership gains of about eight percent.
Experience Counts
As Mr. Cook and his fellow Authority officials begin tackling commuter rail service in southeast Michigan, they have more than their own impressive track record to persuade others that this new project can work. They can point to the growth — and the savings — other cities and states have seen from investing a combination of federal, state, and local dollars into building or expanding rail systems.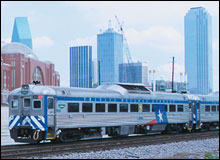 Dallas Area Rapid Transit
Slam Dunk: Dallas' Trinity Railway Express commuter train will soon stop at the American Airlines Center-the Dallas Mavericks' new basketball arena.
One program that may be particularly attractive to communities along the proposed rail line: Location Efficient Mortgages (LEM). Sponsored by Fannie Mae, the nation's largest source of home financing, LEM's have been used in Chicago to boost the house-buying power of families who drive only one car or who locate near transit stations. By granting a special credit that reflects the money saved from not owning a second car—perhaps an additional $300 a month — as part of a mortgage qualification process, a family could borrow an additional $40,000 on a fixed-rate, seven-percent mortgage. Such increased spending also significantly boosts a local governmental unit's property tax base.
Building a regional commuter rail line along I-94 will save the state money, too. The Michigan Department of Transportation is seriously considering spending $1.5 billion to widen just seven miles of that highway — the region's oldest and most over-burdened. Implementing rapid train service instead, which would run on existing track, would cost an estimated $80 million, relieve some of the immense pressure on I-94, and spur greater use of Ann Arbor's and metropolitan Detroit's transit systems.
Then and Now
AATA's current study of commuter rail in southeast Michigan is both a call to action for the entire region and a further expansion of Ann Arbor's longstanding and still-growing commitment to quality public transportation.
That commitment is as widespread as it is strong: In July 2002 Ann Arbor city leaders invited the county's citizens and local government, academic, and business leaders to a forum to coordinate regional plans for a more sustainable and prosperous future. The resounding feedback from participants in the initiative — called Regional Cooperation — indicated an overwhelming desire to get serious about public transportation. In December 2002 regional leaders gathered again, this time to specifically discuss commuter rail's potential for solving two of the region's most pressing problems: Traffic congestion and sprawl. Participants agreed that transportation options that ease the region's chronic gridlock is essential to protecting the quality of life that makes Washtenaw County such a desirable place to live.
Such community-wide support for building a truly world-class public transportation system is both precious and rare. That support also makes AATA director Cook's goal a believable one. He says his agency and others are looking toward 2006 — when Detroit hosts Super Bowl XL — as a good target to at last get trains running again.

Contacts:
• John Hieftje, 734-994-2766,
• Greg Cook, 734-677-3902,
On Board: Choosing The Bus Broadens A Family's World View >>