National Food Expert, Author to Speak in TC
Hesterman to highlight acclaimed new book and offer 'recipe for change'

September 16, 2011 |
| | |
| --- | --- |
| | |
| | MLUI |
| | Oran Hesterman. |
For Immediate Release
September 16, 2011
Contact:
Shauna Fite, Outreach Coordinator
Michigan Land Use Institute
Phone: 231-941-6584 ext. 25 • Fax: 231-929-0937
Email: shauna@mlui.org • Web site: www.mlui.org
Traverse City—A national leader in the ever-growing local food movement, Dr. Oran Hesterman, will speak at the State Theatre, in Traverse City, on October 6, at 6 p.m., at a free event called "Fair Food: A Recipe for Change."
The evening is presented by The Michigan Land Use Institute.
Dr. Hesterman authored the highly regarded new book, Fair Food: Growing A Healthy, Sustainable Food System For All. The book provides inspiring and practical examples of how we can change not only what we eat, but also how food is grown, packaged, delivered, and sold.
Fair Food explains how citizens can spur significant change in our food system, "from your kitchen to your community to your state house and the White House."
Dr. Hesterman's book wins praise from such diverse people as pioneering local foods chef and restaurateur Alice Waters, environmental advocate Robert F. Kennedy, Jr., and Michigan Governor Rick Snyder.
"It matters to all of us," Dr. Hesterman says of the wide acclaim his book is receiving. "We need all of us to be concerned with not only how we are feeding ourselves and our families, but also about how everybody needs access to healthy food."
A promotional video offers the author's pithy summary of his book's message, while the current edition of Edible Grande Traverse features an in-depth radio interview with him.
During his distinguished, 15-year career as a program officer with the W.K. Kellogg Foundation, he's helped launch many of the most innovative local food initiatives in the country. Hans Voss, MLUI's executive director, says that the value of Dr. Hesterman's work has grown over time.
"Few people in America have more insight into what's needed to take the local food movement to the next level than Dr. Hesterman," according to Mr. Voss. "We've all read our fair share of food books, but this one is special."
Dr. Hesterman provides insight into how our food system evolved into something so large and centralized that farmers find it easier to sell their produce in the global market than directly to their neighbors. He also explains why, today, financially strapped families have such a difficult time finding, much less buying, healthy food.
Not content to focus solely on the problems, however, he points the way to solutions that can transform the food economy and, at the same time, strengthen families, farms, and rural and urban communities.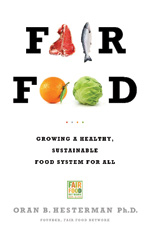 Dr. Hesterman's appearance also offers a unique opportunity to support the local food movement in the Grand Traverse region. If you dine that evening at any of five Traverse City restaurants—FireFly, Oryana's Lake Street Café and Kitchen, Pangea's Pizza Pub, Phil's on Front, or The Cooks' House—those eateries will donate a portion of the proceeds to the local version of a Hesterman project known as the Double Up Food Bucks program.
The local initiative doubles the money families in need can spend on fresh produce at area farmers markets.
Dr. Hesterman developed Double Up Food Bucks in his current role as president and CEO of the Fair Food Network, a national nonprofit organization based in Ann Arbor. He collaborated with the Northwest Michigan Food & Farming Network, which includes MLUI, to extend it to the Grand Traverse region.
The Network and a diverse group of health care industry representatives, faith-based organizations, businesses, anti-poverty organizations, farmland preservation groups, and educational institutions are hosting the event.
The lead sponsor of Fair Food: A Recipe for Change is the Esperance Family Foundation.
Sustaining sponsors are Gary and Mimi Appel, Cherry Capital Foods, Grace Episcopal Church, Jim and Chris MacInnes, Munson Healthcare Regional Foundation, the Oleson Foundation, Oryana Natural Foods Market, the Porter Family Foundation, and the Traverse Bay Area Intermediate School District.
Supporting sponsors are Mark Coe, Calvin Lutz Farms; Ken and Jan Engle; Michigan State University-North; Neahtawanta Center; John and Theresa Pelizzari; and Althea Petritz.
Dr. Hesterman will hold a book signing at Horizon Books in Traverse City immediately after his presentation at the State Theatre.
About the Institute
The Michigan Land Use Institute is an independent, nonprofit research, educational, and service organization founded in 1995. More than 3,000 households, businesses, and organizations have joined the Institute in support of its mission to establish an approach to economic development that strengthens communities, enhances opportunity, and protects Michigan's unmatched natural resources.